VIRIDIS 25
A new solution that makes brands and products more sustainable.
Equipolymers (EQP) is proud to announce the launch of Viridis 25, a new food-grade polyethylene terephthalate (PET) using up to 25 per cent chemically recycled PET as feedstock, reducing the need for virgin PET with benefits for business, the environment and the community.

The breakthrough technology from Equipolymers (EQP) will provide a new food-grade polyethylene terephthalate (PET) using up to 25% chemically recycled PET bottles as feedstock: the highest ratio achieved so far. Viridis 25 will require >3% of total rPET available in Europe.

This incredible advancement from the EQP innovation group takes the world closer to closing the loop in the circular economy, helping brand owners to meet the guidelines of the European Plastic Strategy while driving an increase in plastics recycling. Advances in technology supported EQP's visionary approach to the development of a new product.

Viridis 25 was presented on October 9th in Vienna during a conference held at the Palais Coburg, with speakers Dr. Ramesh Ramachandran of the EQUATE Group (EQUATE), Bruce Eliott of Coca-Cola, Antonello Ciotti and Paola Arlotti of EQP and Karl Foerster of Plastics Europe.

"Equipolymers" mission is to be a leader for sustainable development and growth worldwide and the Viridis 25 project enabled us to do just that, creating a product with far-reaching environmental, social and business benefits" said Dr. Ramesh Ramachandran, President & CEO of EQUATE, opening the conference. "We are transforming the way plastic products are designed and produced."

This project's roots go back to 2009, when EQP launched Viridis 10, a PET grade containing up to 10% recycled PET. In 2016 EQP and Coca-Cola started collaborating on Viridis 25. Bruce Eliott, CEPG Managing Director of Plastics Packaging, Coca-Cola, said: "In response to the European Plastics Strategy, Viridis 25 contributes to Coca-Cola's global strategy of a 'World Without Waste' by increasing the amount of recycled material in its PET bottles."

The brand owners have a huge role in developing circular economy practices by supporting recycling and the use of recycled plastics. "We are proud of the results that we have achieved together" said Antonello Ciotti, Global Commercial Director of EQP. "EQP is the preferred partner for brand-owners and other key value chain players in the PET market, through innovation-driven leadership and high-quality product standards."

Equipolymers has the full support of the EQUATE Group board in bringing Viridis 25 to commercial scale by the second half of 2019, with initial manufacturing in Germany.

Equipolymers (EQP) is a company dedicated to the manufacture and marketing of Polyethylene Terephthalate (PET). EQP's mission is to be the PET leader for sustainable growth worldwide. The company is a wholly-owned subsidiary of EQUATE Petrochemical Company(EQUATE), a global producer of petrochemicals and the world's second largest producer of ethylene glycol (EG). As part of the EQUATE Group, EQP pursues sustainability in all aspects of its operations.


Powered by Froala Editor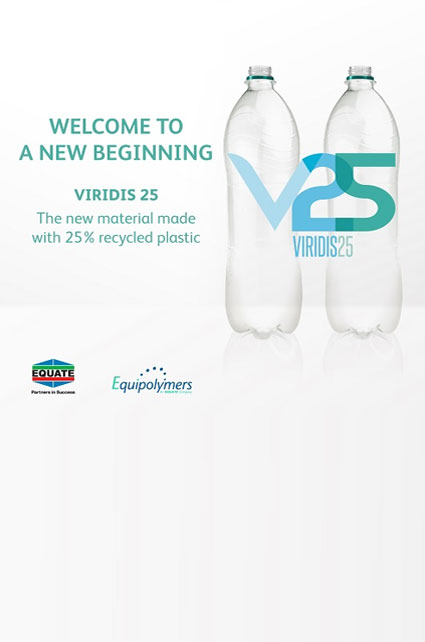 The breakthrough technology from Equipolymers